Transforming the Thames Pathway
Supporting the vision for neighbouring development
Last year, plans were approved for an extension and refurbishment of the neighbouring office building, commonly referred to as the 'Financial Times (FT) building'.
The plans include establishing a new pedestrian route and pocket park from the Thames Pathway to Park Street, between the former FT building and Red Lion Court. We are planning to enhance this pedestrian route with an equivalent space made available through the redevelopment of Red Lion Court, in addition to a new landscaped space facing the Thames.
The landscape design incorporates, new planting, trees, seating, cycle storage and grass areas, providing spaces to gather, pause and rest.
Park Street Square and the new pedestrian route
We are proposing a colonnade leading off the Thames Pathway to a tranquil urban pocket park, which we have initially called 'Park Street Square'. The new route and park will extend through to Park Street and align with Porter Street.
Thames Pathway expansion and Bankside pocket park
We have set back the new buildings, to accommodate a wider Thames Pathway with new planting and seating. The pocket park we have called 'Bankside Square' includes new trees, planting and intimate seating spaces.
You said, we did
In our second consultation 80% agreed with expanding the new pedestrian route, and genuinely 'green' spaces was the priority. However, there were also concerns about potential antisocial behaviour at night and this impacting the local residential communities. We are proposing to include gates on the pocket park and route through to Park Street, so the route is only open during the day.
An active ground floor
The ground floor of Red Lion count is designed to be publicly accessible and provide a secondary route through from the Thames Pathway to Park Street. In addition to the lobby for both the new office and affordable workspace, we are proposing a cycle hub entrance with a bike workshop also available to residents and visitors, a new wellness or health centre and a flexible retail unit facing the river. This flexible space could accommodate a variety of uses such as shops, a café or restaurant.
Compared to the current Red Lion Court, these new ground floor uses will bring activity and new services to the area for residents, businesses and visitors.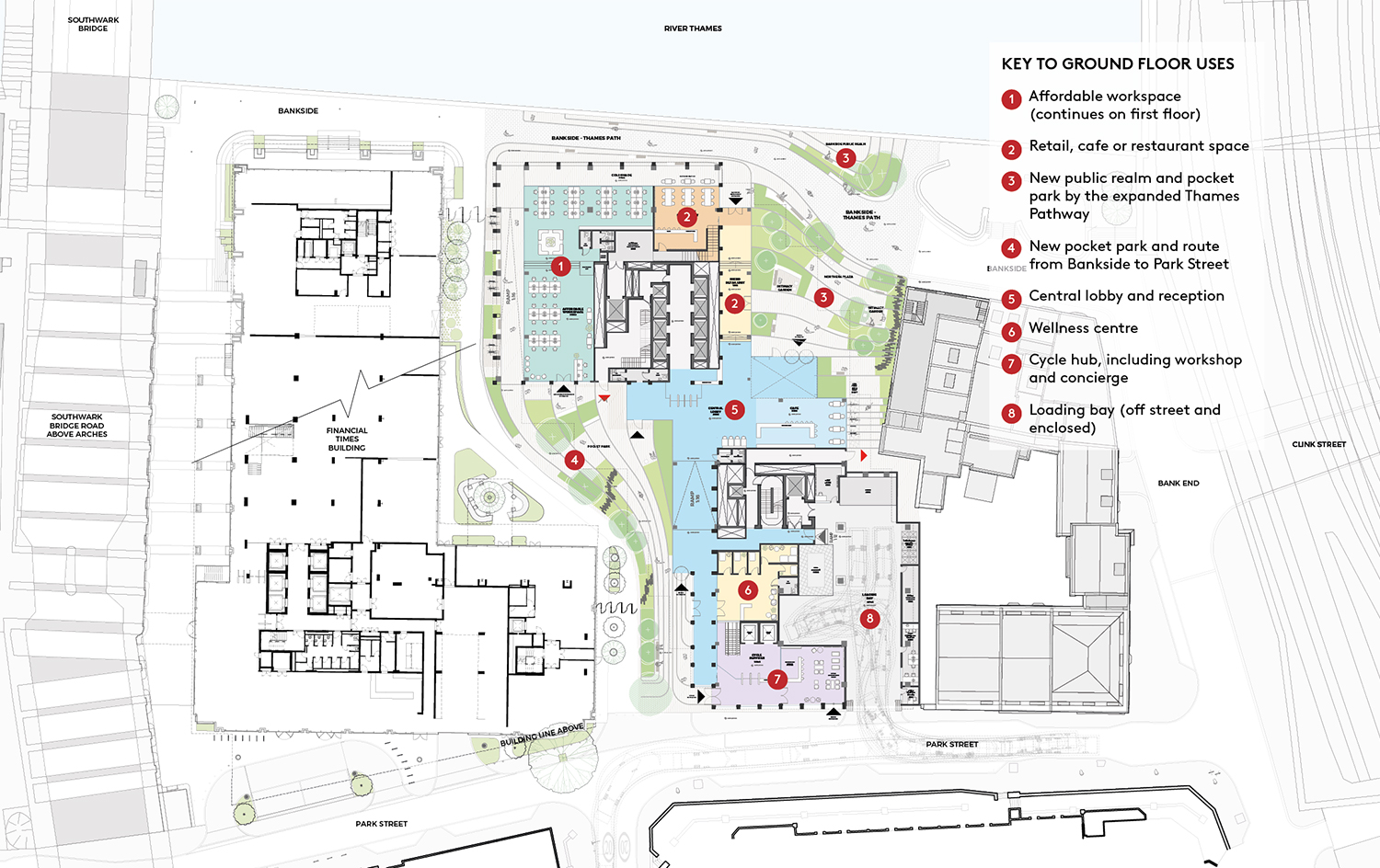 You said, we did
A number of local residents and groups have raised concerns about the saturation of alcohol-led venues in the area, and the negative impact on those who live locally. The new retail space (next to our affordable workspace entrance) facing the river would need to be able to accommodate likely future tenants, and with its thriving work and visitors' economy, a restaurant or café use is the most likely use for at least part of this riverfront space.
Consideration is being taken on appropriate management. We will have a management team on site 24hr a day, and we will take measures to protect residents from disturbances, such as sound insultation and quiet closing doors. Hot food takeaway and pubs or bars will not be allowed in this unit.
We have situated uses which directly serve residents, office users and the community (cycle workshop and wellness centre) on the quieter Park Street side.